Prvu konferenciju DOKKICA je organizirala u lipnju prošle godine u suradnji sa specijaliziranom školom iz Liverpoola Abbot's Lea School i Filozofskim fakultetom Osijek. Konferenciju su podržali Edukacijsko rehabilitacijski fakultet u Zagrebu te Zdravstveno veleučilište Zagreb.
Cilj konferencije bio je predstaviti inovativne metode i pristupe u radu s djecom s teškoćama u razvoju te je sukladno navedenom cilju konferencija organizirana kroz 5 tematskih područja:
Multidisciplinary approaches, methods and techniques in working with children and young people with SEND

Evaluation and progress – Data collection and analysis for planning, monitoring and evidencing impact.

Therapeutic work in the process of upbringing and education of children and young people with SEND

Obitelj kao ključan čimbenik u planiranju i provođenju obrazovnog, preventivnog i terapijskog programa

Senzorno-integrativne aktivnosti – rana intervencija i školska dob
Konferencija se održala u hibridnom obliku (putem Zooma i u prostoru Filozofskog fakulteta Osijek) u vremenu od 8:30 do 18:00 sati te smo na istoj imali prilike ugostiti 4 plenarna predavača, 15 aktivnih sudionika te preko 500 pasivnih sudionika, odnosno slušatelja iz Hrvatske i svijeta.
Raspored prošlogodišnje konferencije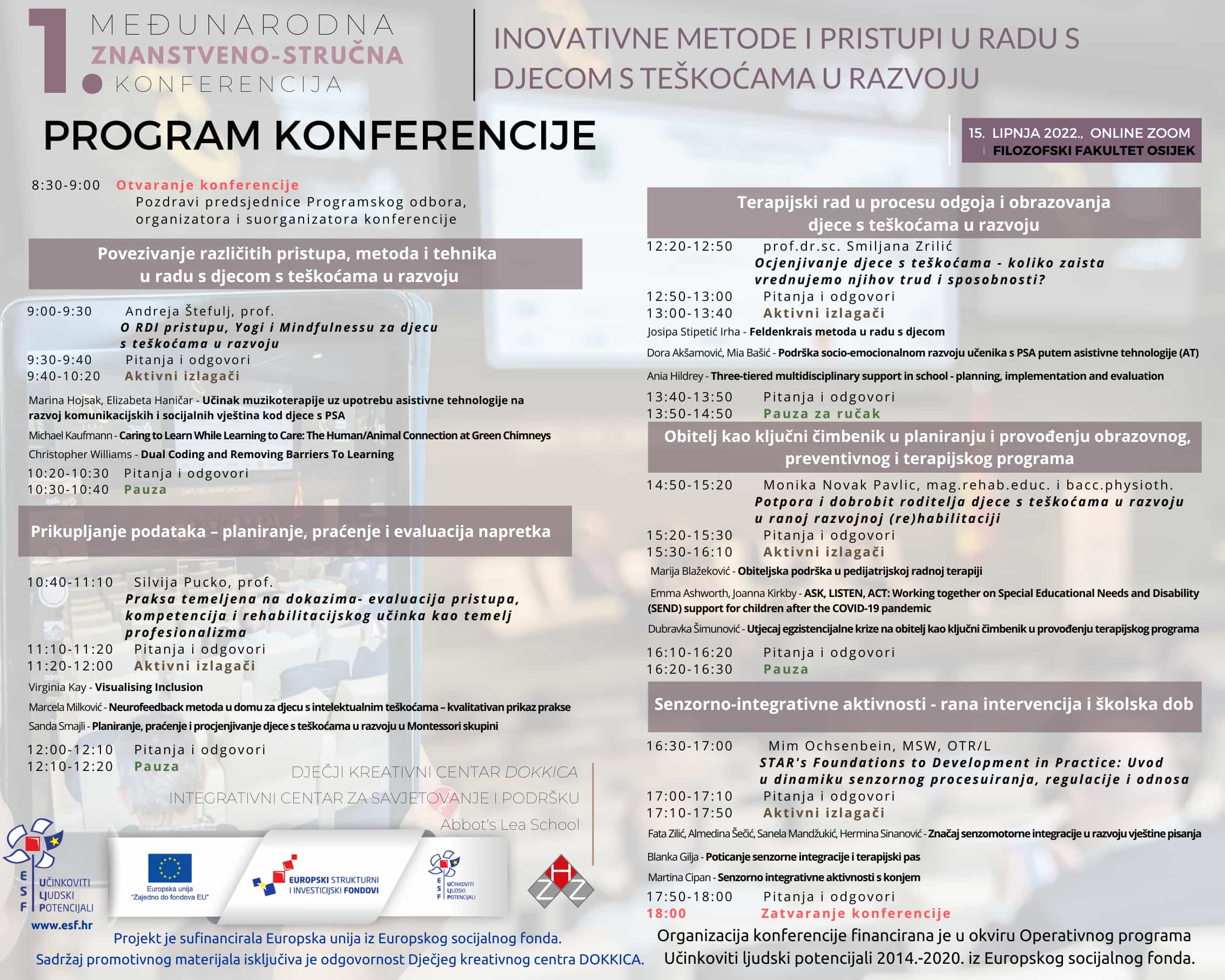 Programski odbor prošlogodišnje konferencije okupio je 17 stručnjaka s područja edukacijske rehabilitacije, logopedije, radne terapije, kineziologije, fizioterapije, pedagogije te odgoja i obrazovanja.
Članovi Programskog odbora :
dr. sc. Sara Muršić, Abbot's Lea School, Liverpool- predsjednica programskog odbora
Prof Ana Wagner Jakab, Faculty of Education and Rehabilitation Sciences, Zagreb
Prof Rea Fulgosi-Masnjak, Faculty of Education and Rehabilitation Sciences, Zagreb
Dr Ana Katušić, Faculty of Education and Rehabilitation Sciences, Zagreb
Mihaela Grubišić, mag. physioth., University of Applied Health Sciences
Dr Claire Sangster Jokić, University of Applied Health Sciences
Lidija Andrijević Gajić, prof. logoped., Centar za odgoj i obrazovanje "Slava Raškaj" Zagreb
Dr Sanja Jandrić, University Hospital Osijek
Vladimir Bjelobrk, mag. educ. philol. croat. et mag. paed., Autism Centre, Osijek
Prof Renata Jukić, Faculty of Humanities and Social Sciences, Osijek
Dr Iva Šklempe Kokić, Faculty of Kinesiology, Osijek
Dora Marinić, mag. rehab. educ. SINAPSUS, Education-rehabilitation private practice
Dr Zoe Moula, Imperial college London, Faculty of Medicine, School of public Health, England
Prof Ludmila Smirnova, Mount Saint Mary College, New York, USA
Sonya Abbye Taylor, EdD, Mount Saint Mary College, New York, USA
Dr Clare Woolhouse, Edge Hill University, Liverpool
Prof Fiona Hallet, Edge Hill University, Liverpool